Why You Have to Die is a recording made in Outlast 2.
It is acquired by filming the chalkboard in the schoolhouse's classroom in The Chapel.
Transcript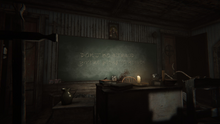 Blake: Going to Heaven. God. Before they killed the children. You should have loved me. I... what am I doing?
Trivia
Immediately after finishing the recording, all of the lids on each of the desks in the school house will mysteriously flip open.