Three Blind Dreamers is the final document in Outlast: Whistleblower.
It is located in a dark room on the right side of the hallway, just past the room where Miles had been startled by a TV turning on in the Exit.
Content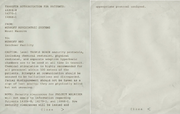 "TRANSFER AUTHORIZATION FOR PATIENTS:
14306-8
14279-1
14868-1
FROM:
MURKOFF PSYCHIATRIC SYSTEMS
Mount Massive
TO:
MURKOFF ARD
Zeichner Facility
CAUTION: Level TRIPLE BLACK security protocols, including chemical restrain, physical restraint, and separate adaptive hyperbaric chambers are to be used at all time in transit. Chemical stimulation is highly recommended for all personnel within 500 meters of the patients. Attempts at communication should be assumed to be hallucinations and disregarded. Facial disfigurement should not be taken as a sign of lost acuity; they are physically blind but not unseeing.
NOTE: Security clearances for PROJECT WALRIDER will not apply to information regarding Patients 14306-8, 14279-1, and 14868-1. New security clearances will be issued and appropriate protocol assigned."