The Modern Prometheus is a document in Outlast.
It is located in the control room of the Life Support Fluid Reservoir in the Underground Lab.
Content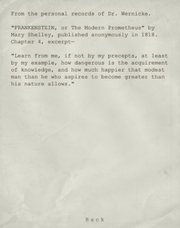 From the personal records of Dr. Wernicke.
"FRANKENSTEIN, or The Modern Prometheus" by Mary Shelley, published anonymously in 1818.
Chapter 4, excerpt –
"Learn from me, if not by my precepts, at least by my example, how dangerous is the acquirement of knowledge, and how much happier that modest man than he who aspires to become greater than his nature allows."
Ad blocker interference detected!
Wikia is a free-to-use site that makes money from advertising. We have a modified experience for viewers using ad blockers

Wikia is not accessible if you've made further modifications. Remove the custom ad blocker rule(s) and the page will load as expected.