The Locusts is a recording made in Outlast 2.
It is acquired by filming the swarm of locusts attacking Blake Langermann as he crosses a bridge in The Scalled.
Transcript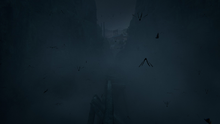 Blake: I don't know how many of them got in my mouth. My skin wouldn't stop itching. They were trying to lift me up.