The Hegemon is a document in Outlast 2.
It is located inside a hut in The Scalled, where several Scalled are seen suffering right outside of it, immediately after avoiding a hostile Scalled armed with a knife.
Content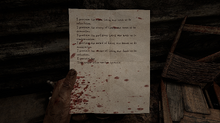 "I proclaim the whore Laird, who leads us to
infestation.
I proclaim the scurvy of Laird, who leads us to
damnation.
I proclaim the perfidious Laird, who leads us to
contamination.
I proclaim the deceit of Laird, who bleeds us to
annihilation.
I proclaim the canker of Laird, who feeds us to
extinction.
I proclaim the
Sick semper evello-mortem tyrannis."
Ad blocker interference detected!
Wikia is a free-to-use site that makes money from advertising. We have a modified experience for viewers using ad blockers

Wikia is not accessible if you've made further modifications. Remove the custom ad blocker rule(s) and the page will load as expected.