The Enemy Waits is a document in Outlast 2.
It is located inside a house with it's interior walls painted red along the second half of the lake shore in The Lake, set on a table with red candles.
Content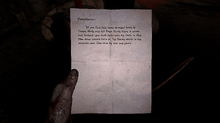 "Mark/Aaron-
If you find this, head straight back to Temple Gate and tell Papa Knoth there is horror and torment here that tests even my faith in God. Men alone cannot face it. The Enemy waits in the darkness here. God save my soul and yours."