Temple Gate has other uses. Please see Temple Gate (Disambiguation) for other meanings. 
Temple Gate is a recording made in Outlast 2.
It is acquired by filming a sign for Temple Gate in Temple Gate Town Square.
Transcript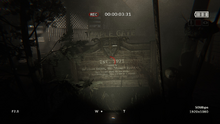 Blake: Temple Gate, founded by Sullivan Knoth, the 'Modern Ezekiel'. Their knives sharp for the enemy.
Trivia
If the player misses this recording in the Temple Gate Town Square sub-chapter, then it is possible to obtain it in The Chapel sub-chapter as long as the player can avoid the pursuing cultists.
Ad blocker interference detected!
Wikia is a free-to-use site that makes money from advertising. We have a modified experience for viewers using ad blockers

Wikia is not accessible if you've made further modifications. Remove the custom ad blocker rule(s) and the page will load as expected.