Serve and Protect is a note in Outlast: Whistleblower.
It is acquired by recording Murkoff's Tactical Division examining Trager's corpse in Exit.
Content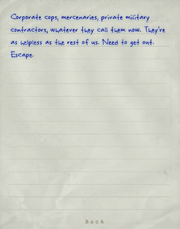 "Corporate cops, mercenaries, private military contractors, whatever they call them now. They're as helpless as the rest of us. Need to get out. Escape."
Ad blocker interference detected!
Wikia is a free-to-use site that makes money from advertising. We have a modified experience for viewers using ad blockers

Wikia is not accessible if you've made further modifications. Remove the custom ad blocker rule(s) and the page will load as expected.