Recordings is a recording made in Outlast 2.
It is acquired by filming a school office becoming infested with fleshy growths and bloody walls in A Call for Help.
Like all recordings made in St. Sybil High School, the footage recorded is replaced by static.
Transcript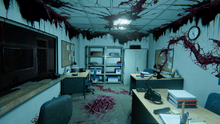 Loutermilch
(in reverse): 
You let me share my bliss with the children. Who may be able to take my bigger talents and turn them into glory.