Project Walrider Patient Status Report for Frank Manera is a document in Outlast: Whistleblower.
It is located on a laboratory counter after seeing a shadow on the wall in front of Waylon in the Hospital.
Content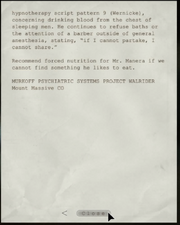 "MURKOFF PSYCHIATRIC SYSTEMS
PROJECT WALRIDER
Mount Massive CO
Case Number: 209
Patient: FRANK ANTONIO MANERA
Consultation Dated: 2012.08.29
Initial Date of Patient Counsult: 2010.11.01
Patient Age: 36
Gender: Male
Observing Physician: Dr. Carl Houston (DBNR)
THERAPY STATUS:
Minimal Morphogenic Engine activity, and only at extreme (stages 5 and 6) levels of hormone therapy. Dream states return repeatedly to images of isolation and betrayal. Zero lucid state.
DIAGNOSTICS:
Heavy bronchial accumulation consistent with patient with histories of tobacco and marijuana. Exceptionally low REM activity.
INTERVIEW NOTES:
At the time of this interview, Frank was down to 155 pounds, (from his admission weight of 228.) He was lethargic and largely non-responsive, exhibiting interest only in the hypotherapy script pattern 9 (Wernicke), concerning drinking blood from the chest of sleeping men. He continues to refuse bathes or the attention of a barber outside of general anesthesia, stating, "if I cannot partake, I cannot share."
Recommend forced nutrition for Mr. Manera if we cannot find something he likes to eat.
MURKOFF PSYCHIATRIC SYSTEMS PROJECT WALRIDER
Mount Massive CO"