Life Support is a note in Outlast.
It is acquired by recording Billy Hope's life support reservoirs.
Content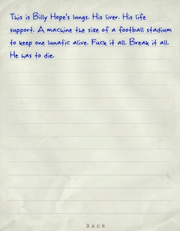 "This is Billy Hope's lungs. His liver. His life support. A machine the size of a football stadium to keep one lunatic alive. Fuck it all. Break it all. He has to die."
Ad blocker interference detected!
Wikia is a free-to-use site that makes money from advertising. We have a modified experience for viewers using ad blockers

Wikia is not accessible if you've made further modifications. Remove the custom ad blocker rule(s) and the page will load as expected.