Lesson Plan is a document in Outlast 2.
It is located on a desk in the second floor of the schoolhouse in The Chapel.
Content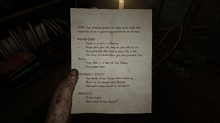 "AIM: The children should not fear their duty but celebrate it as a guaranteed entrance to Heaven.
REMEMBER:
- There is no pain in Heaven
- Papa gave you life, and so your life is his.
- God gave you life, and so your life is his.
- You may not know that you are yourself The Enemy.
- Your fear is a tool of The Enemy.
- God knows best.
ENGAGE / STUDY
- The whale saved Jonah from drowning.
- Jesus in the desert with Satan.
- Abraham killed Isaac in his heart.
PROJECT
- Draw angels.
- Who could be the Enemy?"
Ad blocker interference detected!
Wikia is a free-to-use site that makes money from advertising. We have a modified experience for viewers using ad blockers

Wikia is not accessible if you've made further modifications. Remove the custom ad blocker rule(s) and the page will load as expected.