Jessica's Suicide Note is a recording made in Outlast 2.
It is acquired by filming a message from Jessica on a chalkboard in Saint Sybil School.
Like all recordings made in St. Sybil High School, the footage recorded is replaced by static.
Transcript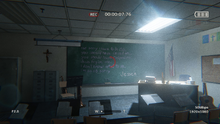 Blake
: 
There's no picture. Just... noise. But I saw it, I know I saw it.
Loutermilch (in reverse): Dear Lord, sweet Jesus, forgive my sins and accept my gratitude. Thank you God for killing the child.