In the Cannibal's Kitchen is a note in Outlast: Whistleblower.
It is acquired by recording Frank Manera exploding a man's head in a microwave in the Hospital.
Content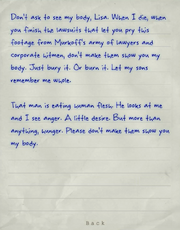 That man is eating human flesh. He looks at me and I see anger. A little desire. But more than anything, hunger. Please don't make them show you my body."