Garden Note is a document in Outlast 2.
It is located next to a woman's dead body lying against a tree in Temple Gate Town Square, just to the left of the elevator after escaping from Marta.
Content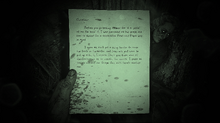 "Christine-
Before you go looking all over for it or yellin' at me for losin' it, I had borrowed all the grape aid over to chapel for a celebration Paul said Papa had in mind.
I know we ain't got a thing better to cover the taste in the water, but folks will just have to put up with it, I expect. Don't give them none of the Sacrament as its needful for service. I guess we can do without our Grape Aid until there's another run.
Macon"
Ad blocker interference detected!
Wikia is a free-to-use site that makes money from advertising. We have a modified experience for viewers using ad blockers

Wikia is not accessible if you've made further modifications. Remove the custom ad blocker rule(s) and the page will load as expected.