Dr. Wernicke Obituary
Comments

2
134pages on
this wiki
Dr. Wernicke Obituary is a document found in Outlast. The document can be found in Prison Block, in the first cell on the left where "WITNESS" is written on the wall, after Miles jumps from a ledge in the cell area.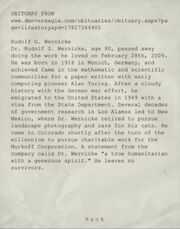 "OBITUARY FROM
www.thedenvereagle.com/obituaries/obituary.aspx?pa
ge=lifestory&pd=17827364905
Rudolf G. Wernicke
Dr. Rudolf G. Wernicke, age 90, passed away
doing the work he loved on February 28th, 2009.
He was born in 1918 in Munich, Germany, and
achieved fame in the mathematic and scientific
communities for a paper written with early
computing pioneer Alan Turing. After a cloudy
history with the German war effort, he
emigrated to the United States in 1949 with a
visa from the State Department. Several decades
of government research in Los Almos led to New
Mexico, where Dr. Wernicke retired to pursue
landscape photography and care for his cats. He
came to Colorado shortly after the turn of the
millennium to pursue charitable work for the
Murkoff Corporation. A statement from the
company calls Dr. Wernicke "a true humanitarian
with a generous spirit." He leaves no
survivors."