A Widower is a note in Outlast: Whistleblower.
It is acquired by recording Eddie Gluskin's corpse, impaled on a metal beam in the Vocational Block.
Content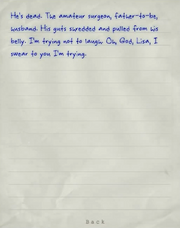 "He's dead. The amateur surgeon, father-to-be, husband. His guts shredded and pulled from his belly. I'm trying not to laugh. Oh, God, Lisa, I swear to you I'm trying."