A Sickness in St. Sybil is a recording made in Outlast 2.
It is acquired by filming Jessica at the end of a hallway in St. Sybil Administration.
Like all recordings made in St. Sybil High School, the footage recorded is replaced by static.
Transcript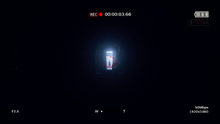 Loutermilch
(in reverse): 
The gift of music, and mathematics, and love. Those fleeting moments we can preserve in which music and math become the same thing.